If you're in your mid-twenties, you're probably attending a wedding every weekend. I love seeing friends walking down the aisle and saying "I do." I always have a fun time to catching up with old friends and dancing the night away. But staying Paleo during a busy wedding season can be tough, so I'm sharing some of my tips on staying on track while attending weddings.
Before
It all starts with the save the date and invite. Some weddings will give you the option to chose your protein with your RSVP card and others will be buffets. I always find it hard to choose my protein weeks before because I'll never know what I'll be craving…typical, I know. Normally, I'll go for the beef or fish. Yes, they might be cooked in butter or other random oils, but you can only control so much.
Day of
Have a hearty meal before the wedding, just in case there aren't many side options to choose from. Before weddings, I do my research. Is there a cocktail hour? Do I plan to stick to water? Wine? Cider? Where's the reception? What time does the wedding start? Don't be like me and walk in right before the bride…(It's only happened once and Steven will not let me live it down…it was so awkward (Sorry, Carly!)).  I try to plan out as much as I can. I always stick a bag of nuts or an RX Bar in my purse, just in case!
Reception time
It's time for the reception and time to eat. I'm nosey and try to take a peak at the buffet before I get up to fill my plate. So far, avoiding bread and other non-Paleo items has been pretty easy. While everyone else enjoys bread and butter, I'll focus on my salad. Honestly, since being diagnosed with Crohn's it's been a lot easier to avoid bread because it just destroys me and I've learned it's not worth it. When going through the buffet, I focus on all the delicious vegetables and protein. Sticking to the basics is the best way to go.
Drinking and dessert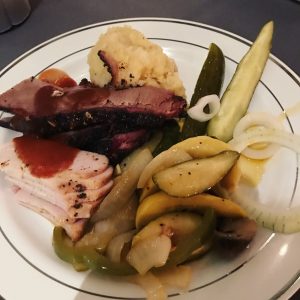 Everyone's Paleo journal is different. Some allow sweets and drinking, others don't. For me, it really depends how I'm feeling that day. I'll normally have a glass of wine or cider if available. I stay away from beer, it destroys my stomach and makes me feel bloated. If I decide not to drink, I'll have sparkling water if available.
Lastly, I'm going to be honest. I almost always enjoy dessert at weddings. I know these treats are not Paleo, but I also know a cake ball isn't going to ruin me. Obviously, if I'm in the middle of a Whole30, I avoid all treats, but in my day-to-day Paleo life, I don't see anything wrong with moderation and balance. Yes, a sweet treat might destroy my stomach, but I just way the pros and cons and decide if it's worth it. I normally won't eat a huge slice of cake to myself, but I can normally get away with a bite without too much pain.
Obviously, do what's best for your journey and your health! Since being diagnosed with Crohn's, food has given me a lot of anxiety, especially when I can't control what food is available, but I do my best to prepare and make the best choices for me. I hope you all find this a bit helpful! I love to hear your tips for staying Paleo at weddings!
Related posts: