I've been trying really hard to get back into a schedule of working out, but it's not easy. For a while, I was going to the gym at 5:30 am for a spin class. I truly love spin classes and didn't mind the early mornings for awhile BUT then 3 pm would come around. I would be dead. Major brain fog and constantly yawning.
I am someone who needs 7 to 9 hours of sleep. I know, it sounds crazy, but it's what my body craves. If I get less than 6ish, I'm useless the next day. Getting up at 5 am made it hard to get the amount of sleep I need. Because of this, I started looking into alternative workout ideas with more flexibility.
I've seen the Peloton ads a lot lately (they were advertising hard during the World Series, Go 'Stros) and decided to look into them. I love the idea of being able to join a live class or jump on and do an on-demand class anytime I wanted. After looking at the website, I knew there was NO way I'd be able to afford a Peloton bike anytime soon…so I decided to give the app a try.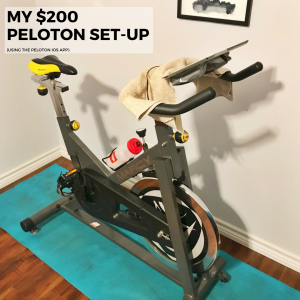 I'd used the app once at the gym and really enjoyed it. I truly felt like I was in a class with an instructor cheering me on, which really motivates me. After trying the app, I knew I'd love to have an indoor cycling bike. I decided to keep an eye out on Facebook Marketplace (literally my favorite) and Craigslist.
I ended up finding a Marcy Club Revolution Indoor Cycle for $80 (which my mom offered to pay for as my early birthday present). It was a STEAL! This bike has pretty decent reviews and normally goes for $300+ brand new. Steven and I went and picked it up, I clean it up a bit and we put it in the extra bedroom.
Awhile back, I purchased these cleats (and clips) off Amazon. For the price, I've found them to be great. They're not too fancy and get the job done. Because I had cleats, I decided to order these pedals for the bike. These allow for me to clip in and Steven to use the cages.
Lastly, I purchased this iPad holder. We originally duct tapped the iPad but decided a holder was worth it. I think you could easily use your phone as well, but I had an old (gen 2) iPad that I wasn't using at all…so this was the perfect way to get some use out of it. After trying it out, it's not my favorite holder (a bit too wobbly), so I'll either return it and purchase another or have Steven build me a stand or something. My bike doesn't have a great middle bar to connect it to, so the iPad is off centered and makes it hard to grab the third position on the bike.
Other Peloton app users suggest getting a cadence monitor. During a lot of the classes, they'll tell you a certain cadence to stay around. This is the one most people recommend. I did some research and decided to order this one. It's not wireless and I think I'll prefer having the external screen since the one everyone recommends uses your phone to give you a reading. We'll see how it works and I'll update y'all. Currently, it won't arrive for a few weeks.
Overall, I spent about $175 on this setup, which is AMAZING compared to the $1000+ a new Peloton costs. Don't get me wrong, someday I might get a Peloton. But for now, this set up works.
I plan to do an app review in a month or two, so stay tuned for that.
Breakdown:
Bike $80

A lot of people love the Sunny, but I recommend keeping an eye on Facebook Marketplace (where I found mine) or Craigslist.

Pedals $50

If you have shoes, these pedals come with cleats. A lot of local bike stores also sell these, but they were more expensive in the store.

iPad holder $23

There are SO many different iPad holders, I chose this one based on reviews.

Peloton app $13/month after the first two weeks
*There are affiliate links in this post
Related posts: