Long time, no post…am I right? I'm working on my Cape Town, South Africa, post and hope to have it up soon. Life has been a bit hectic lately. The day after I landed from Cape Town, we received the keys to our new rental house and we moved in the following weekend. We're still organizing. I forget how long it takes to get settled after moving. Also, moving is the worst. Who's with me?
Alright, so I know everyone and there mom has a taco recipe. We made the BEST tacos last night and I thought I'd share with y'all.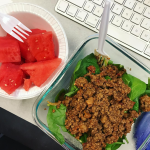 Simple Tacos
Ingredients
Taco seasoning
2.5

tbsp

chili powder

2

tbsp

garlic powder

1

tbsp

dried (or fresh) oregano

3

tsp

cumin

1

tsp

paprika

1

tsp

cayenne

more or less depending on spice

1/2

tsp

onion powder

1/2

tsp

salt
Taco meat
2

lbs

ground beef

1

cup

Frozen (or fresh) onions and peppers

1.5

cup

water

or just enough to cover beef
Instructions
Brown the beef in a large pan

Once the beef is browned, drain the grease

Add frozen vegetables and cup of water to the beef. Make sure to have enough water to just about cover the beef

Mix all the seasoning ingredients together and stir them in with beef

Let the beef simmer on low/medium and continue to stir

Once all the water is gone, serve and enjoy!
I tend to enjoy my tacos with Siete tortillas or, if I'm not doing Whole30, with corn tortillas. My favorite leftover meal is taco meat over a bed of spinach. The best part of taco meat is it makes the best leftovers! I hope y'all enjoy!
Related posts: