Happy FriYAY! What a week. For once, it feels like it flew by. Tomorrow, I'm co-hosting a wedding shower for a college friend and I'm so excited! The rest of the weekend will be spent looking at some houses, cleaning and hopefully getting some yoga in. What do y'all have planned?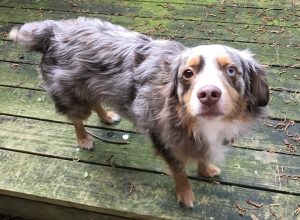 Last week I purchased a dog razor from Amazon and it arrived on Monday. Y'all, who knew shaving your dog was so easy? I've been paying like $70 twice a year to get Gundy shaved and honestly, I hated doing it. You know you're a dog mom when you get anxiety leaving your dog at the groomers…I blame the constant horror stories I always heard of dogs getting hurt or getting away. Trust me, I know of all things to have anxiety about, it sounds ridiculous. But now I can do it alllll by myself and save money! (Before photo on the left, after on the right)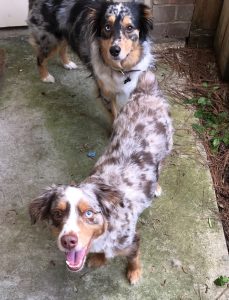 On Wednesday I received my second infusion of Remicade. So far, I've done really well with it and have felt a lot better. I haven't had any major side effects, other than feeling like I got hit by a bus the day after.
Now for the reason y'all clicked on this post, the jambalaya recipe I teased on instagram earlier this week! It's simple enough for weeknights and lets be honest, that's the most important part. Hope y'all enjoy!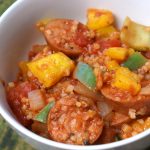 Jambalaya (w30/paleo)
Ingredients
2

tbsp

Olive oil

1

Pederson's

Smoked Kielbasa

no sugar added for Whole30

2

Bell peppers

Any color

1

Sweet Onion

4

stalks

Celery

1

tbsp

Minced garlic

1

bag

Cauliflower rice

1

cup

Broth

1

can

Fire roasted tomatoes

1

can

Tomato paste

1/2

tbsp

Old Bay seasoning

1/2

tbsp

Smoked Paprika

1

tbsp

Oregano

1

tbsp

Thype

1

tbsp

Parsley

1

dash

Salt and pepper
Instructions
Dice all of the vegetables and cut the sausage into pieces

Add olive oil to a large pan

Sauté the onions first, once they're translucent, add bell peppers and celery. Cook for a few moments, until the vegetables are starting to get soft.

Add in the sausage and cook for 5 minutes or so.

Add in the broth, tomato paste and fire roasted tomatoes.

Add in all the spices and minced garlic. Stir everything together.

Last, add the cauliflower rice (I used the frozen kind from Trader Joe's).

Continue to stir and let it come to a simmer. Allow the jambalaya to simmer until most of the liquid is evaporated (about 30 minutes on low).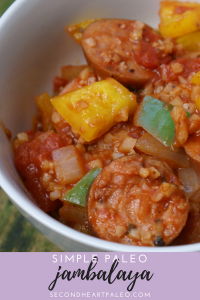 Related posts: