Shampoo bars are small, normally circular, bars of concentrated shampoo that can last for up to 80 washes or more. They're packed full of essential oils and clean ingredients.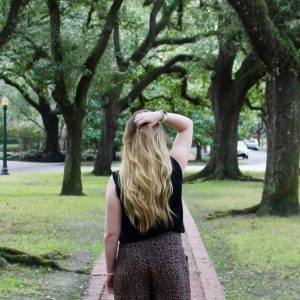 I've been considering going "nopoo" for awhile, but my hair is pretty long and tangles easily. I've read a lot about nopoo and hope to try it out one day, but for now, I decided to try out shampoo bars that use simple, natural ingredients. Have any of you tried nopoo? Any tips or suggestions?
Review
I'll be reviewing a shampoo bar and a conditioner bar I got from Belizean Breezes Soap, a local soap shop in San Pedro, Belize. They told me their shampoo bars are based on the same idea as Lush's shampoo bars.
I have long, thick hair. It's naturally wavy, but I normally blow dry it straight-ish and curl the ends. If I let it air dry, it quickly becomes a mess unless I brush it straight the whole time. It normally ends up pretty tangled, so I used a wet brush to brush it out. Side note: I HIGHLY recommend the wet brush, especially if you hair tangles easily and tends to get pulled out.
Normally, I get my hair wet and run the shampoo bar over the top of my head, down my hair and then I rub the soap between my hands, put it down, and mix it into all my hair, like you would with normal shampoo. I do the same thing with the conditioner bar, but focus more on the middle/end of my hair and rinse it out.
My favorite thing about the shampoo bar, is it lathers SO WELL. I was really nervous the bars would leave my hair feeling tangled and dry, but it's the complete opposite. The shampoo bar leaves my hair feeling smooth and clean.
At first, it was weird getting use to using a bar on my hair, but I've quickly become obsessed. I feel like my hair is so much healthier than it was when I used normal shampoo. I've received a ton of compliments and my hair dressed every commented on how healthy my hair looked it felt!
Do you use shampoo bars? What brand do you recommend? I plan to try Lush's next, but for now, my shampoo bar has lasted 4+ months and I think it might last me two or three more!
Related posts: