Hope everyone is having a great summer so far. Steven and I have been pretty busy lately with weddings and whatnot. We attended our last wedding until September this weekend and I am so excited to have the month of August at home! Do you ever feel like you're going, going, going? That's been us since about March. It's nice to look forward to a month of doing nothing. I'll also being doing a Whole30 in August and I'm looking forward to getting back to whole foods.
Below is another recipe highlighting fresh fruit from Loam Agronomics.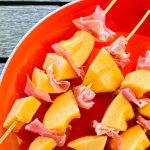 Prosciutto cantaloupe skewers
Ingredients
1

package

prosciutto (make sure the ingredients are only pork and salt)

1

cantaloupe

1

package

skewers
Instructions
Open the prosciutto and cut it in the four parts. I find it easiest to use kitchen scissors.

Cut open the cantaloupe, clean out the seeds and cut into cubes

Fold the prosciutto the slide it through the skewer, add a piece of cantaloupe and repeat

Do this for all the skewers.
Related posts: