It was one of those evenings. We were sitting on the couch, flipping through channels and debating what to have for dinner. Steven and I have been trying really hard to clean out our freezer. It's PACKED with frozen fruits, vegetables, seafood and meats. Oh and lots of ice trays because it's 2017 and we don't have an ice maker? Yeah.
So I decided to go digging through the freezer and found some frozen shrimp, small deveined and peeled. I let it defrost for a bit and decide to throw together a coconut shrimp curry. I don't know how, but I think I created one of my favorite recipes without even trying and I'm glad I can share it with y'all. The best part? We used THREE frozen items and cleaned out some space in the freezer! Hallajuah.
But really, if you're looking for a quick dinner – here's the perfect recipe. You can serve over rice (like Steven did), cauliflower rice or lettuce (like I did).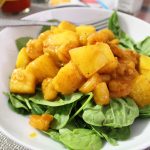 Ingredients
1

frozen bag

shrimp, deveined and peeled

1

frozen bag

white onion

1/2

frozen bag

pineapple (or fresh works too!)

1

can

full fat coconut milk

1

tbsp

minced garlic

1 1/2

tbsp

curry (I used three different kinds)

1/2

tbsp

salt

1/2

tbsp

pepper

1

tsp

paprika

1

tsp

turmeric

1

tsp

cayenne

1

tsp

garlic powder
Instructions
In a big saucepan, add the shrimp and onion. Take the pineapple out of the freezer and allow it to defrost on the counter.

Once defrosted and cooked, pour out the extra water.

Add the full-fat coconut milk + spices to the shrimp and white onions. Stir.

Leave over medium heat and let it simmer until most of the liquid has evaporated. Remember to stir occasionally.

Pour the pineapple in a bowl. If it's still cold, add the shrimp curry over it and stir. This will defrost the pineapple and cool off the curry.

Serve over lettuce, cauliflower rice or rice. Enjoy!
Related posts: