Hope you're all having a good week! I had a pretty productive weekend, which is always nice. On Friday, I finally saw Beauty and the Beast. If you haven't seen it – you're missing out! It's really good. Most of the time, I get bored during movies (and end up falling asleep), not this one! It kept the story moving and I was hooked the whole time.
Saturday, I co-hosted a wedding shower and caught up with old friends. It's always nice to see friends from college that you haven't seen in forever! I had a great time and am so glad we could spoil the bride with some of her closest friends. Sunday was spent running errands (Old Navy & Trader Joe's). Old Navy was having a great deal on workout gear and I wanted some new stuff before I head to Cape Town for a yoga retreat in less than 20 days. WHAT. It's really snuck up and I am so excited/nervous/pumpedddd! Obviously, I needed all of the everything but the bagel seasoning at Trader Joe's. No worries, I bought real food too.
This week is slowly moving along. BUT the real reason for this post is to share my lazy egg roll in a bowl recipe. Y'all know I love egg roll in a bowl. It's constantly on my instagram and in my belly. Here's my version of a lazy egg roll in a bowl. Enjoy!!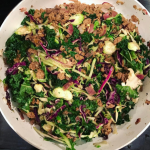 Ingredients
2

tbsp

Sesame seed oil

1

lbs

Ground meat (I used venison)

1/2

Purple Onion, chopped

1

tbsp

Minced garlic

2

eggs

1

bag

Cruciferous Crunch Collection from Trader Joe's or Power Slaw from HEB

1

tbsp

Ground gigner

2

tbsp

Fish sauce (I use Red Boat)

2

tbsp

Coconut aminos

Salt and pepper
Instructions
Brown the meat in the pan or wok. While the meat is browning, chop your onion.

When the meat is almost brown, add in the onion and garlic. Allow everything to cook for a few minutes.

Add two eggs and scramble them in.

Add your bag of Cruciferous Crunch to the mix. Stir all together.

Cook it until the vegetables are desired texture. I like mine still a little crunchy.
Related posts: