Hi friends! This past week has been the longest week. Anyone else feel like that? It felt so long mainly due to Rodeo Houston, and I am so glad tonight was the last night! I volunteer for a committee and I absolutely love it but I'm glad it's over for the year. Next year, my favorite Garth Brooks (the GOAT (GREATEST OF ALL TIME)) will be closing and opening Rodeo Houston and I cannot wait!
This past week, the dose of prednisone I'm on hit me hard. Like, alll the water weight and the dreaded moon face. I'm down to 20mg (from 40mg) but all the side effects are just now hitting me. I keep having to remind myself the moon face will go away, but it's hard. In the light of remaining positive, I just tell myself that this will pass too.
This weekend went by way too fast, like always! First, my parents were in town Friday night to see Dierks Bentley at the rodeo. I had to work a Rodeo shift, but was able to enjoy the concert. Dierks put on a really good show! Highly recommend seeing him if you can.
On Saturday, my roommate and I went and tried a Pilates class at a new studio here in Houston called Stretch Studio. We had a blast and the studio is easily one of the most gorgeous workout studios I've been in, I can't wait to go back. Also, my abs are killing me today. Once I try their spin and yoga classes, I'll write a review to share.
Ok, now I want to share with y'all my homemade cashew milk recipe! Normally, I have Silk unsweetened vanilla cashew milk on hand, but the ingredients (which are Whole30) are not the cleanest. I also really like thick cashew milk because I mainly use it in my coffee and random recipes. Enjoy & let me know if you try it!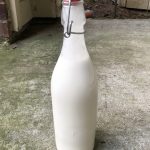 Homemade Vanilla Cashew Milk
Ingredients
2

cup

cashews

4

cups

water

1

teaspoon

salt

2

teaspoons

vanilla extract

Omit for Whole30 and feel free to add less if you don't love vanilla

nut milk bag
Instructions
Put the cashews in a jar or bowl and add enough water to cover them. Let them sit for 2 to 3 hours (or longer).

Strain water from the cashews.

Add cashews, 4 cups of clean water, salt and vanilla to blender.

Blend on high for 3 minutes or so. Make sure they're really well blended.

Put the nut milk bag (linked to the one I use) over a bowl and strain the mixture.

Pour the milk in a jar or a glass bottle (linked to the one I use), enjoy!
Recipe Notes
I prefer unsweetened cashew milk, but if you like yours sweetened, I suggest adding a tablespoon or 2 of honey or agave nectar. 
Related posts: