Hi friends! I hope everyone had a great weekend. We're currently sitting on the couch switching between the Astros game and pre-shark week shows. Is anyone else pumped for shark week? I'm intrigued to see how Michael Phelps will race a shark. Steven and I have also been addicted to LivePD lately. I talked a bit about it on my Instagram story the other night. It's on A&E and it's live show that follows a few different cops around the country on Friday and Saturday nights. It sounds terrible, I know, but it's so addicting. It's like you're live on a ride along, and let's be honest, who wouldn't go on a ride along if they had the chance?
These past few weeks, my food choices have been all over the place. II'll be starting the simple carbohydrates diet (SCD) in Aug. to see if that will help with my Crohn's. It's a lot like Whole30 except I'll be avoiding potatoes, cassava, okra, kombucha and a few other favorites.
My goal is that SCD will eventually help me get off Remicade. I know all diets aren't "one size fits all" type thing, but this has worked with a lot of other Crohn's patients…so we'll see if it works for me. Overall, I'm feeling better but I'm still having some symptoms and am truly exhausted all the time. I know once my eating is back on track, I'll hopefully feel a lot better.
Now to share my favorite green smoothie recipe. It's extremely simple, but to me it's the best tasting. Unlike more people, I love a thin smoothie. I want to be able to slurp it right up and not work for it. So if you prefer a thick smoothie, add ice, yogurt or don't add liquid.
Second Heart Paleo Green Smoothie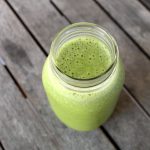 Ingredients
2

cups

spinach

1

frozen

banana

1/2

cup

frozen pineapple

1

cup

water

1

scoop

collagen peptides
Instructions
Add all the ingredients to the blender

Blend on high until desired consistency
Related posts: